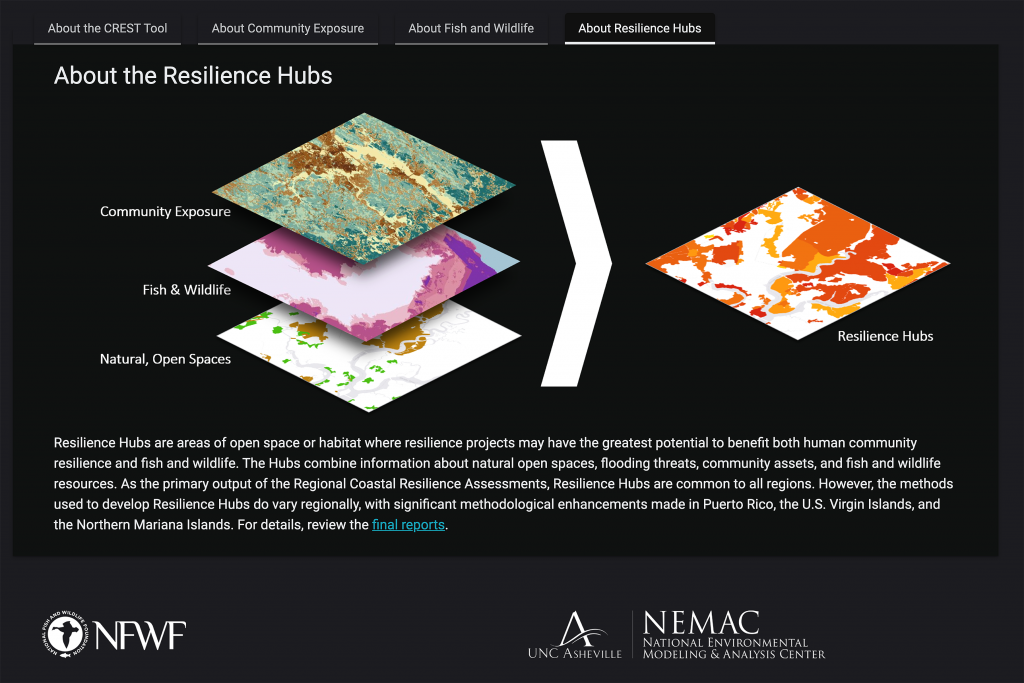 National Fish and Wildlife Foundation (NFWF)
Regional Coastal Resilience Assessments
NEMAC partnered with the National Fish and Wildlife Foundation (NFWF) and the National Oceanic and Atmospheric Administration (NOAA) to develop the Coastal Resilience Assessments. The Assessments seek to identify areas on the landscape where the implementation of nature-based solutions have the potential to maximize benefits for human community resilience and fish and wildlife habitat. In 2019, NFWF launched CREST to share results of the Assessments for the U.S. Atlantic, Gulf of Mexico, and Pacific coastlines, which use a standardized methodology to combine information about flooding threats, human community assets, and fish and wildlife species to identify Resilience Hubs. The Assessments have since expanded to include Puerto Rico, the U.S. Virgin Islands, the Northern Mariana Islands, and Hawaii. Assessments for Alaska, Guam, American Samoa, and the Great Lakes are underway. Owing to the uniqueness of each region, the methods continue to be refined and enhanced.
Coastal Resilience Evaluation and Siting Tool (CREST)
CREST provides an online, interactive environment to access the Regional Coastal Resilience Assessments results. It allows users to: 1) View and explore key Assessment inputs and results within their own areas of interest, 2) Analyze potential project sites and quantify results from the Assessment models, 3) Search Resilience Hubs to identify potential project sites, and 4) Provide advanced GIS users with the ability to download all of the final Assessment datasets for use in their own GIS platform. CREST will be updated as new regions are added to the Assessment and updates are made to existing Assessments.
---